About the People's Think Tank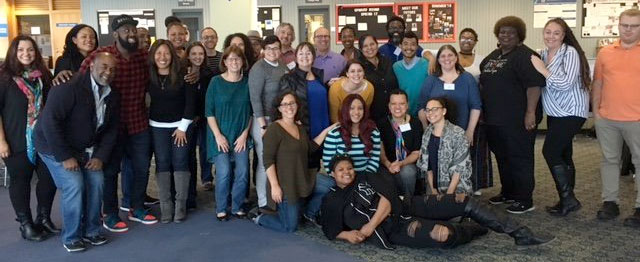 A Call for a People's Think Tank
Over the course of several convenings, over 50 movement builders engaged in discussions of lessons learned over the last 15 years of relationship building and movement building, documenting them in a book: Lift Us Up Don't Push Us Out! Voices from the Front Lines of the Educational Justice Movement; and had discussions on what it will take to truly win campaigns that represent real victories in people's lives. The idea for a "People's Think Tank" emerged, to contain, foment, excite, uplift, document and disseminate the collective wisdom of the many grassroots movement builders that converged to form what we now call the "education justice movement" and support that kind of cross movement reformation in other grassroots movements across the country.
The People's Think Tank will serve as a vehicle for providing the creative space necessary for organizers, young people, parents, allies and potential activists to brainstorm a proactive vision for our world, with the same marginalized communities leading at the forefront, while also connecting strategies and action to effecting change in the local, state and national arenas.
The People's Think Tank Purpose & Focus
The People's Think Tank is a dire need within the progressive movement for several reasons. Those directly impacted by injustice often lack the privilege of time or capacity to plan or implement a vision beyond a single election cycle, yet they are consistently subjected to policies and practices that often miss the mark.
In any given city, most progressive campaigns have similar opponents, yet groups who are not familiar with each other, or are buried deeply within a particular issue, struggle to deliver the most impactful blow to powerful conservative machines in our communities. Without deep and meaningful relationships across sectors, leaders and organizers fall susceptible to attacks that intentionally seek to divide and conquer, versus strengthening our roots in the communities we hold dearly in our hearts.
Through a series of gatherings, regionally and nationally, we will identify groups and individuals who are committed to strengthening and expanding their organizing networks. Within the Think Tank, participants will explore potential areas of collaboration while deepening authentic relationships that had been built over the years through educational justice organizing and could be reinvigorated by coming together in person.
The People's Think Tank will provide the space and opportunity for movement leaders to:
Develop a vision of equitable and holistic educational inclusion as part of a broader vision for healthy and vibrant communities;
Foster pathways that advance collective love, sovereignty and well-being; and
Build innovative organizing models that dismantle systemic oppression in order to support peaceful neighborhoods, inclusive employment, and human justice.
Gatherings
The People's Think Tank will serve as the educational justice movement's body of experts, and it will also serve as an agitating connection point for cross movement building. The People's Think Tank will draw heavily from the collective knowledge gained from years of work organizing, intersectionally, cross sector and cross movement. Some of the long-term political projects will include linking the issues of educational justice to other social justice issues impacting students and their families trying to access a quality education.
We seek to build best practices and political discipline to both implement and defend gains made by educational justice advocates, and will incubate solutions, innovation, and creativity for a time that is more politically hospitable to achieve larger policy wins. Like other think tanks, the People's Think Tank will work to produce research, opinion pieces and policy proposals to proactively shape the agenda on public education.
Unlike other think tanks, based on gatekeeping expertise, the People's Think Tank will be based on the co-collaboration of grassroots (real young people, parents, activists and directly impacted communities) joining scholars, academics and researchers to create and disseminate collective knowledge and expertise.
Conference
These convening would provide people with a rare space to meet people from an array of movements and craft a positive vision of where the movement needs to go combined with opportunities to participate in action at local or national levels. We will collect and disseminate the shared understandings, lessons, issues, questions and ideas generated at a local and national level.