A Step in the Right Direction
< back to The Newest Abolitionists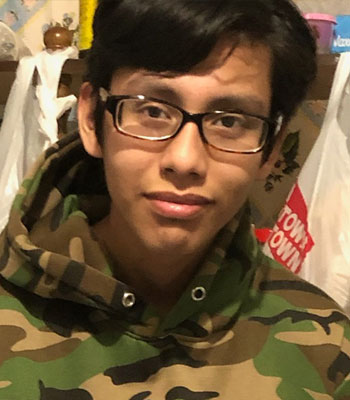 By Cristian Flores
Future of Tomorrow & Urban Youth Collaborative
With the assistance of Patrick Robinsson-Link
University of Massachusetts Boston
Any minor change in the right direction is always good change. It might not be enough, but it's a step in the right direction.
Cristian Flores is a youth organizer with Future of Tomorrow (which is part of Urban Youth Collaborative in NYC). Cristian makes a clear connection between the equality and respect he feels within his own family to the larger struggle to extend these conditions to all marginalized groups. Cristian takes pride in his leadership and self-discipline and has been able to use these qualities to fight for social justice for his classmates, friends, and family in Brooklyn.
I am from Bushwick in Brooklyn, New York and I identify as Mexican American. My community is not necessarily a bad community, nor is it the best community either. Crime is on the lower end, it is present every now and then, but not often. I can't say for certain how often because of the fact that I have been sheltered for most of my life inside the house.
At home, it is up to me and my younger brother to take care of the house while both of my parents are away at work. In our house, we're all equals no matter what you do or what you accomplish. In the end, we're all family and are treated equally. To me, this is the opposite of racial injustice, where, because of the color of your skin, you're automatically seen as less than or more than someone else. In the end, we're all human beings who bleed the same blood and we all deserve equal opportunity and respect.
I value my family a lot because of all they've done for me and, the way I see it, I want to be able to provide for my family's future and protect them despite whatever they might be up against. I have a strong distaste for social injustice because my family is Mexican American. Black and Latinx folks are oftentimes targeted racially because of who we are. And because of that, I always have the small, unconscious thought that something might happen to my family because of the fact that we're Mexican.
I go to Brooklyn Lab, which is all the way on Jamaica Avenue. My two favorite activities at school are JROTC and Future of Tomorrow (youth organizing group). I enjoy JROTC because it feels similar to another family and because of the leadership opportunities. The members of the leadership are all very close and I built a close relationship with each of them. One of my most important possessions is my pendant showing that I was a cadet second lieutenant. However, I was recently promoted to first lieutenant.
Because of the distance from home to school, along with showing up early for PT (physical training), I wake up really early. Before the pandemic, I would wake up around five in the morning so I could catch the train around six. I would make it to school at 645 in time to raise up the flag at seven. My classes are just like any normal classes. I show up, get my responsibilities done, get the assignments done, do what I need to do. At the end of the school day, I wouldn't go home because I have responsibilities as part of the leadership role in JROTC so I would stay at school, up to around 4 o'clock. And then, I would usually go back home and get home around five to five thirty depending on train traffic.
At my school arguments and fights occur somewhat frequently. When they do happen, I do my best to stay away because I don't want to get in trouble and tarnish my transcript.
I've had very little interaction when it comes to the police and school safety agents because I do my best to absolutely avoid any sort of interaction with them. I'm very much aware of how corrupt the system is and how it targets Black and Latinx students, unfortunately, Black students the most.
In terms of outside police, I've never had an interaction with them despite there being a police station a few blocks from my house. The very few interactions I have had with school safety agents were technically negative. My freshmen year, I think it was in November, there was heavy rain or snow, so I decided to put on boots. These boots had a very small portion of metal on the laces to keep them tight, they were kind of heavy boots. They triggered the scanner and one of the school safety agents pulled me aside. At first, I was confused, but I had a level of understanding because it's their job to make sure that we're safe. However, when he started checking through me, patting me down, it was in an aggressive manner as if he automatically assumed I had a weapon of some sort. That gave me the idea that something feels off about this. I wasn't as aware of it as now, yet the more I look back at it, the more I come to realize that he might have been looking so aggressively because of the color of my skin.
My Youth Organizing Experiences
I initially joined Future of Tomorrow through the Summer Youth Employment Program (SYEP), they were doing a paid program where you could join temporarily and be paid a stipend for it. During the third or fourth week of SYEP, I was pulled aside and asked if I wanted to join another program for the other half of the summer. It was a program that involved Urban Youth Collaborative (UYC) where we would work alongside them for a week and learn about all sorts of things. But the main reason I went was because we would get a $500 college scholarship. Throughout that week I got to learn a lot more and by the end of the program I was pretty invested. So, when school started in the fall, I decided to join Future of Tomorrow.
We learned all sorts of things such as immigration policies, a basic understanding of the school-to-prison pipeline and credit card usage.. A lot of stuff that my school has never even touched on.
The highlight of youth organizing for me was last January. We went to Albany to protest and advocate for all the things we've been fighting for since I joined. I got really really invested in it. It was amazing to see my team members be so passionate about something. That's something I don't see too often and just seeing that filled me up with motivation and passion.
In Albany we focused on the Solutions not Suspensions campaign where, rather than automatic suspensions, schools focus on restorative justice programs and investing in guidance counselors so we can address the root cause of problems. Problems with students could be happening because of family issues or anything of that sort that's causing the "need" for suspensions. I don't think there was any legislation passed, but it did at least show where we stand when it comes to suspensions.
I enjoy my work with Future of Tomorrow because of our overall goal of fighting social injustices wherever they are present in our schools and communities. I have a strong opposition towards any sort of negative interactions because of race or religion. Whenever I see it, I feel anger and I don't want to tolerate it. And with Future of Tomorrow, since we are against social injustices, it provides a stand so that we can give a voice to those who cannot provide that voice.
My involvement in youth organizing is one of the main things I enjoy when it comes to high school. Most of my classes, I'm okay with it. I usually just listen, but I'm not really interested nor am I uninterested, just indifferent to it. That's how it is for most of my classes. However, when it comes to JROTC and Future of Tomorrow, I enjoy most of it and strive to do the best I can so I can provide a layer of protection for my family.
The person I most look up to on the staff of UYC is Khia, who was a facilitator for Future of Tomorrow. I admire the whole staff's dedication and all the hard work they put in. Just seeing them do what they love and fight against oppression is amazing.
How Youth Organizing Has Impacted Me
Since joining UYC, I have noticed injustices. Like during the pandemic, there has been a big spike in terms of racism towards Asian-Americans and hate crimes because of the whole pandemic. Or what happened on the sixth of January when they barged into the Capitol, and then you compare that directly to previous movements that were more peaceful like the Black Lives Matter movement, and you can see a completely different treatment.
Or during remote school, we didn't have a lunch break. It was just calls straight for six hours, no break. A lot of the students were unhappy with that and we gathered up and made a whole petition. We borderline protested. Eventually, we got through to them to give us a lunch period. I've also heard some of the students at my school mention how teachers prevent students from entering Zoom classes, which is essentially the same thing as a normal suspension. You can't attend class, you can't get the work, and then, once you're back, they give you all the piled up work you have to make up.
Or more recently, a friend was riding her bike across the street and passed by us. A police officer told her to stop and was patting her down. She was confused and, in that confusion, she gave a little resistance. And after that he started getting more aggressive. And then more officers came and she told me that the officer said to those other officers that she was trying to run him over and that's why he was being so aggressive. I heard that story and I felt an immense amount of anger. I keep a level head for the most part, but it actually grinds my gears when someone hurts my family or friends. Unfortunately, there was nothing much we could have done. I felt bad that she had to go through that, and I was unable to do anything about it.
There's many other students who have had the unfortunate end of the stick and gone through these sorts of things. So my motivation when it comes to youth organizing is to be able to fight against and correct the wrongs that are built into our society. So other students and my brother and sister don't have to go through that. Just imagining them going through something of that sort, it really tears at me. So, I want to be able to fight, to stand up against injustice because I refuse to let my friends and family be hurt in any way by injustice. They do not deserve it and they have done nothing wrong.
During the pandemic organizing has been a struggle, yes, that is true. But we are working and invest as much as we can into organizing, despite the conditions we're facing. I know that any minor change in the right direction is always good change. It might not be enough, but it's a step in the right direction.