Adding Music to the Movement
< back to The Newest Abolitionists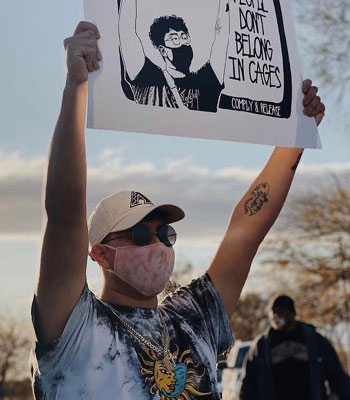 By JoseEduardo Ramos
Puente Youth Movement
With the Assistance of Chris Dickson
University of Massachusetts Boston
Collaborating across time zones, Chris Dickson who is in Providence RI spent an afternoon listening to JoseEduardo Ramos' story. Jose is a youth organizer in South Phoenix, Arizona. Jose is an artist, community leader, and soon to be high school graduate this coming May. Below is Jose's story told with the assistance of Chris. I invite the reader to pause as you journey through Jose's story and see both his courage and commitment to making a difference within the Police-Free Schools Movement.
My name is Jose, but I also have another name – Lalo.
I exist between two names, between being a community organizer and an artist. Both are important to me. These names are also an expression of my identities. I am Mexican, first-generation, and hood. I use the he, him, & his series of pronouns.
I am a musician.
I am an artist.
I make music.
I'm very lucky to be alive.
Growing up in South Phoenix, there's always been this stereotype for people like me, that we Southside people are very dangerous. But the real danger has been surviving school and the streets. I am about to graduate soon from all of this and here is my story.
One day, walking home from school with my brother, we randomly got stopped and pulled over by the police. I didn't know about discrimination until that point. Until guns were pointed at us. Until I felt the body of the oppressor pressing me against the floor. I felt his large white body on top of mine as well as the humiliation. They have so much power and we have so little power, well at least individually. My brother was arrested that day, but in looking back my awareness and experience of the school-to-prison pipeline started much younger.
Where it All Begins
The school-to-prison pipeline starts in kindergarten. The information that they collect about you, ISS, in school suspension, begins to normalize the process early on for teachers. Once you fall into that, you get labeled; and once you get labeled as a youth more likely to be suspended in school, you are more likely to fall into prison. It's just that type of system.
It was during my freshman year of high school when I found Puente. I still remember that day when they showed up to my school and hosted a workshop. I was the first person to raise my hand when they asked who in the audience had experienced police violence. I felt brave, even though I hate politics and attention; but I remember the cascade of hands that followed after I raised my hand. The workshop was about learning your rights and police violence. I left wanting to get more involved and so I did.
Puente is a space where there's no judgement. You can be yourself. We have love for each other and you feel loved. There's always something new to learn and it's a cool environment. It's been really important for me to have been a part of the organization. With Covid-19, it's been hard to stay in touch, but the emotional connections I felt from being involved were very real. It was important to see what other families have gone through and to hear their stories too. The work of creating a more just world, of moving cops off of school campuses has been really inspiring to see and watch grow.
The work of Freedom is important to me. Freedom is a part of the movement of Puente. Freedom caravans happen as we drive by the Arizona Department of Corrections. When I was there, I remember showing up once and hanging out with others to just paint and make banners. Before I knew it, the logo I made of a sign saying "free the students" found its way on a T-shirt. The logo was of a pair of handcuffs being broken. When the chains break, it's like a butterfly breaking out. When I see butterflies, I see Freedom. When I think about Puente and the work they are doing, I see Freedom.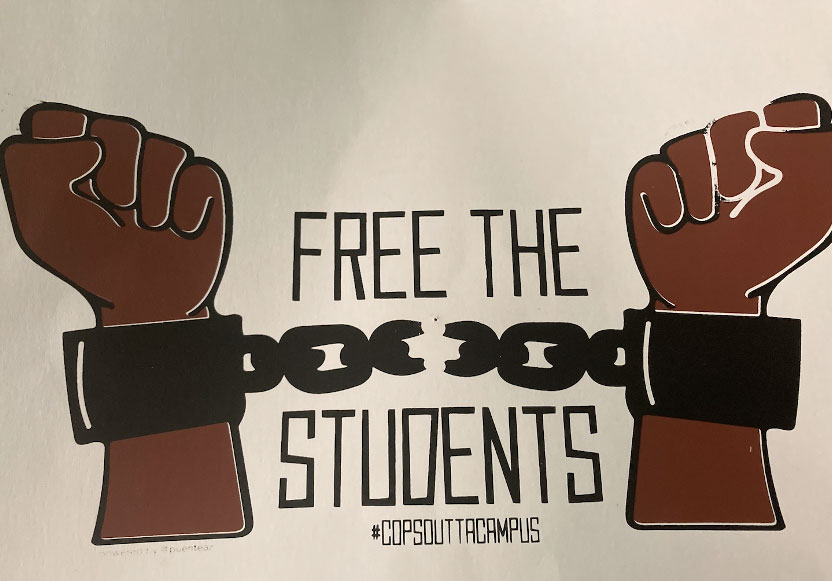 The goals of the organization are to keep the movement going. There is a lot of work to continue to do here in Phoenix but also all over. Puente has a global mindset to keep growing and expanding the needed work of moving cops off campuses. I want to see demilitarized schools and stop seeing friends getting pushed into the school-to-prison pipeline.
Resistance from Within
There are challenges to youth organizing. There is ageism, another felt form of discrimination. The very teachers that are there to be with us at school are the hardest to get through. You would hope they would be allies, but it's been hard to build relationships with them. There needs to be more communication between us and less instruction. Teachers and other adults don't feel we are emotionally intelligent enough to be understood. Yet even when I try to communicate and share my story, they criminalize me. The work of building coalitions with adults is complicated. Teachers have been normalized to believe that we are not able to do this work, but we, the youth are.
As an artist I am hoping to make my own changes and engage from a different perspective. When Drake speaks, everybody listens. I am becoming a better musician and one day I hope to mobilize musicians and artists to pay attention to this work. You can't forget where you come from. I am street smart.
I grew up running from the cops. I remember when they shot up my house. The system as it is intends for me to fail. If it wasn't corrupt, I would be at peace.
School still feels like a prison though. I see my friends keep getting pushed into the system. The cops are gone, but the teachers are still here. Another suspension means another kid getting pushed out. It's rigged from the bottom up. Kindergarten is when this whole thing starts. This experience has been a game of survival and I am finally graduating this coming May.
How can I make more people aware of what's going on right now?
I honestly hate politics, but things are so bad that I need to speak up. I need to get involved and bring others into this work in order to make a change.
My name is JoseEduardo, but I go by Lalo.
Find me on Spotify, Apple, & other platforms.