Fighting for Police-Free Schools: Giving up is Never an Option!
< back to The Newest Abolitionists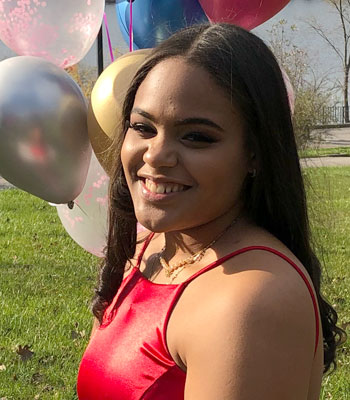 By Brielka Rodriguez
Make the Road Staten Island
Urban Youth Collaborative New York
With the assistance of Christina Bohr
University of Massachusetts Boston
Brielka (she/her/hers) is a fifteen-year-old freshman at Curtis High School and has been an inspiring youth leader at Make the Road Staten Island for about a year. She has been advocating for police-free schools and re-allocation of NYPD funding to have more guidance counselors and therapists in high schools. Brielka believes that her engagement and dedication to have police-free schools in New York can possibly have a positive impact for other youth like her around the world, for people to come together to communicate without violence. As a youth leader, Brielka is the voice of the movement and sees herself as a future organizer to help kids and youth like herself to change the world.
I'm a fifteen-year-old Afro-Latina, I'm Dominican, from Staten Island. I identify as a female and use she/her pronouns. My identities as an Afro-Latina and as a Dominican matter to me because they are who I am every day, how I carry myself, how I am announced to others and also how others speak about me.
Some parts of the community I live in on Staten Island are very quiet and calm, but other areas are very hectic and busy. My high school community is also very loud and noisy, and there is always a lot of movement, especially when school lets out. I go to Curtis High School, a very big and well-known school on Staten Island. The hallways are big, and there are always a lot of students and police walking around. The hallways are always hectic, especially when the bell rings.
I'm a freshman at Curtis High and I just recently had my first day back in school. Because of the pandemic, we are only now starting to go back to in-person classes in a blended format. I was terrified on my first day of school. The hallways are so big, I saw people taller than me – there were so many people there. As soon as I walked into the school building, by the entrance there is an office full of police officers that I had to go through. Sometimes in the morning I have to show them my ID.
These police officers at my high school are from the same precinct as the police officers that killed Eric Garner. That was a few blocks away from my high school. When I saw the police officers walking down the hallways on my first day, it was horrible, I was scared. My guidance counselor was hard to reach, because there were so many kids emailing her about their schedule, or what class to go to – I didn't know what to do, I was scared. Thankfully, I came across my friend who helped me find my way.
When I was in middle school, we had security guards at my school. While I didn't experience police violence myself, I saw my friend being pushed and hurt by a security guard. She had gotten into a fight with another girl, and the police ran to stop the fight, got in between them and all I remember seeing was my friend being pushed away. I felt like the police officers used violence to break up the fight when it really was not needed. They didn't have to get involved in the altercation, and they could have found another non-violent way to solve the situation. I believe that we need more guidance counselors and therapists at my high school, and all high schools, to talk about issues that come up, and to resolve situations without using violence or blowing the situation out of proportion.
What we do at Make the Road New York
I got involved in organizing for police-free schools through my friend Luna. She's also a freshman at Curtis High, and she introduced me to the program and actually changed my life. Without her introducing me to Make the Road New York, I would never have been where I'm at right now. I met Luna in middle school. She told me one day, "Hey, I'm going to this program after school, it's good for your community. It's a good way to stay occupied and to help others." At that time, I had no after-school activities, and decided to go with her. As soon as I went into the room where the meeting was happening, I felt this incredible vibe of family, a vibe that we all need the same thing. I felt the vibe of safety and change. Everyone greeted me and I was like, "Wow! Everyone in the organization wants change and needs change!" As soon as I felt that vibe, I wanted to join and I dedicated my time to organizing, to help my community get better. I've been with Make the Road Staten Island for about a year, and it has impacted me a lot.
I'm involved in organizing for police-free schools. We want to take police officers out of schools. We're also making requests for a re-allocation of NYPD funding to be used for more guidance counselors, therapists, and more money for programs for kids. Because my experience on the first day was so horrifying, we want to make the experiences of other high schoolers smoother and safer. When police are involved in any altercation, they tend to make the problem worse, but guidance counselors or therapists can talk through and resolve issues without using violence. Currently, NYPD funding is used for police officers to patrol empty buildings that no students are going to. Why is this money not used for things that are needed in schools? Students might need more books or more computers in school. While police officers work in empty buildings and are getting paid for doing nothing, our high school experiences are scary and violent because we do not have enough guidance counselors or supporters who could resolve challenging situations without violence.
Some of the highlights from being a youth leader with Make the Road were protests that we organized. For example, we went to Washington D.C. to protest outside the White House. It was actually my first time in Washington D.C., and it was amazing! The day we went it was raining and cold. But as soon as we walked up to the White House, and I saw all those people in line, screaming with their posters up, I was so impressed! This is real support! This is a huge voice! This is a voice for change! The bad weather didn't bother anyone. I saw all those people at the White House that woke up early to drive there, to be there to support one another. That experience was just amazing!
My organization also arranges retreats with organizations like Make the Road New York. We get to meet new people from different boroughs and even different states that want to fight, just like me. We talk about how we are going to fight and how we are going to achieve our goals, what strategies we are going to use and how we can get more people to support us. I learn new information every day, and that inspires me to do more for my community. I have formed such strong bonds with my fellow organizers, my fellow leaders. And the one thing that I have learned in this organization is that we never think about giving up. This thought doesn't even cross our minds. We find ways to be more powerful by organizing more people and having strategies to pass polices for police-free schools, policies to end the school-to-prison pipeline.
I'm a youth in my organization, we as youth are the voices. We speak to representatives in higher office like senators, council members, and others to get them to support us and to pass policies for police-free schools. We prepare arguments to present to other politicians, for example the mayor of New York. Although we haven't been able to reach the mayor directly, we are hopeful that we can reach him as soon as possible to get his support and pass the policies. We have already gained support from senators, and also from people in our community – we even had more people form our community join our movement! We arranged a zoom call to share our agenda and goals with the general public, our own personal experiences with violent police, and to tell them about research studies showing that there should be NO police in schools.
I believe in the power of experiences and community
I believe that Eric Garner's killing by a police officer should be used as an example and is reason enough why police officers should not be in schools. Because what the police officers did to Eric Garner could have – god forbid – happened to a student. And it could be even worse for a student. I feel like having those police officers that still work in the precinct, or even having police officers in schools in general, should be a no go, they should not be in school. While we have gained some support already, we need more, so our policies can finally be passed. And it could even be used in schools around the world.
I feel like I was able to achieve some goals from my organization because other youth, just like me, want change and want schools to be a safe and welcoming place. Despite risks and challenges, I feel like with that mindset, dedication and having other youth – including other youth from around the world – that want the same thing, we can get a lot of things done. We are so powerful because we feel inspired by the vibe that we are going to make change now and change for the future. I see a big impact and big change in the future. In the future, I see that people will be coming together without altercations, without violence, but with communication.
How Make the Road New York has changed my life
My involvement in Make the Road Staten Island has really changed and affected me. Before I joined the movement, I was really introverted as a person. I was scared to speak to people in public, I was scared to talk to elected officials, I was scared to try anything new. But once I joined the movement, all of my fears were thrown out the window. I felt like I could speak my mind. I was always scared to meet people and didn't know how to address them, but this program was an eye opener for me, and it helped me communicate better. It helped me learn new things I didn't know about my community. It helped me for future reference: things I did not know about before I joined the movement, I now know for the future. It has actually taught me some life lessons For example, how important it is to support one another. There is a lack of support when you are on your own, but as a group, we support each other and come together as one.
In the future, I can even see myself as an organizer who helps kids and youth that come from a similar place like me and want change. I can help them become involved and support each other in changing the environment, changing our community, to try new things with the organization. We can achieve police-free schools and hope that future students can have a better and safer experience in school. I believe that together we can change the world.