From Police-Free Schools to Free Public Transportation: The Story of a Youth Leader's Fight for Radical Change
< back to The Newest Abolitionists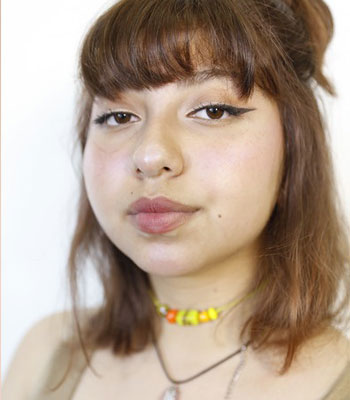 By Emily Zamora
Labor Community Strategy Center
With the assistance of Ryan Doherty
University of Massachusetts Boston
Emily Zamora, a youth organizer for the Labor Community Strategy Center, was born and raised in Los Angeles, California, and is first generation El Salvadorian-American. While Emily talks about the police-free schools campaign, along with her colleagues at the Strategy Center, she works to make change for many other issues, including free public transportation, and a reimagining of transportation in Los Angeles all together, including a vehicle-free city. The Strategy Center has seen success in the police-free schools movement by winning budget cuts to funding police presence in Los Angeles public schools. Emily's dedication for organizing is fueled by a lifetime of witnessing injustice, as she recounts in her personal stories about police harassment. But Emily also talks about organizing out of love for communities at global and local levels.
My name is Emily, and I am from Los Angeles, California. I just turned 20, and I am a first generation American, the daughter of immigrants from El Salvador. I am an organizer for the Labor Community Strategy Center, a multigenerational organization that advocates for racial and social justice. Being a woman and Hispanic is a big part of my identity, especially as an organizer. There has always been such a large population of women who have led the movement throughout the years. Most of the people involved in the Strategy Center are women and I identify with that.
I grew up in a poor, immigrant, working class community that is in close proximity to Beverly Hills. My neighborhood has so many stories that go untold. We live 20 minutes away from Beverly Hills and we are drastically different. Our facilities are always downgraded. There are cops circulating everywhere, always trying to find a way to get you into some type of trouble. They're everywhere. But the neighborhood, being so close to Beverly Hills, is slowly being gentrified. More and more Starbucks and Trader Joes are coming in.
I went to Ouchi High School, which is a charter school in my neighborhood. Overall, my high school experience wasn't bad. We had a decent amount of funding, and it felt like a tight knit community. Of course, the school had its issues. There was a big prioritization of testing in the school, which made a lot of teachers quit. All of the teachers that my peers and I really enjoyed quit the year that I left high school. We did not have much of a police presence in the school, although they came in with dogs for random searches sometimes.
My neighborhood, though, does have a large police presence. They are constantly making their rounds patrolling the streets and the buses as well. One story I experienced was with my own family. Years ago, there was a gunshot near our home, and they came into my house and went after my dad, thinking he was the gunman, even though he was asleep. They put him in a line up because he was dark-skinned. I also remember a story my brother told, where police pulled over the car his cousins and him were in for no reason. My brother said, "Why are you doing this? Aren't you supposed to be protecting people?" And they yelled at him to scare them. The police on the public transit in LA target people who cannot pay, especially young people of color. I remember one time they checked two young Black girls, and no one else on the train, and they kicked them off for not having the money to pay for their bus pass.
My time at the Strategy Center started when I was in high school. Some friends of mine invited me to go see a movie they were going to watch in a Taking Action Club sponsored by the Strategy Center, and I went with them. The movie was a documentary "Symbol of Resistance," and I absolutely loved it. It made me want to join the organization. All I had to do was pay a dollar, and I was in. They gave me a pin, and I still have this pin today.
What originally got me interested in wanting to advocate for people, however, was a social issues class that I took when I was in high school, taught by this amazing teacher Ms. Martinez. She took everything that I was thinking and said it. I thought it was the coolest thing ever. My friends Pablo and Aniya were going to the Taking Action Club in her classroom afterschool, so my first exposure to the group was by walking into her class accidentally. Eventually, I would start inviting my friends, and they would invite their friends
Big and bold demands
Our organization advocates for a wide range of social justice issues that promote equity and racial justice. Our efforts resulted in a $25 million cut in funding for the police in LA public Schools last year and another $25 million cut this year. Previously, the Strategy Center led a successful campaign to get the LA School Police to return a tank and military grade weapons given to them by the federal government. Hearing that the school police had a tank really shocked me. I just can't imagine in what case students would pose such a threat that you will need a tank. Building on our recent victory, we are working on a campaign against the $111 million that the transit authority is trying to add to their policing contract with the Los Angeles Police Department and the sheriff's departments of Long Beach.
We have big and bold demands, like calling for a car-free Los Angeles and for the US government to take its hands off Venezuela. We want to get people thinking differently, like how could Los Angeles be car free? That's how change starts. We also want people to think globally. It catches people off guard sometimes when you start talking about these countries, like Venezuela, that they don't even think about that often. I myself wasn't as conscious before organizing, especially about what's going on in the Third World. But it's very important to care about what happens in other parts of the world, because If there's injustice somewhere, there is injustice everywhere.
Our victories in the movement are tied to our strategy and tactics, but I also think that a big part of it stems from a love for people. We have a sincere and honest love for the community; and because we see the world as our community, we do this for everyone in the world and not just for our immediate area. When you feel so deeply about what's happening around the world as opposed to just issues in the United States, it moves people; it makes them want to stand with us.
It's also the way that we organize people as well. We don't bring in people that don't care. That's where that love aspect comes in. We don't want people who don't want to put up a fight or who don't care enough to do so. We want people that are honest and people who have a lot of love and enough to express that outwards in the fight.
During the pandemic, we are being set back because we have fewer young people interested or able to commit. Zoom organizing is hard. There's a lot of loss and a lot of hurt in the community right now because of COVID. It's been primarily Black and Hispanic people that have suffered the most from the pandemic. Even I got COVID at the beginning of the year and it was terrible. Luckily, I didn't lose anybody, but a lot of these students have lost people. It makes it a lot harder to get students involved when they are in grief.
But we continue to engage students. We organize online and hold in-person events like the rally against the transit authority police funding last week. We have a film and book club, and we get a lot of people that show up for those. We have a core base of people that are constantly there.
An action-based person
There's always something new to learn. A lot of what I learned in the Strategy Center has definitely helped me put together my own identity and also my perspective on my relationship with the world and what I can do to improve it. There are some organizations that just focus on one issue, or just the US or the community around them; but we look at everyone. We're looking at the world.
The future for justice is a simple yet complicated issue. Having Trump as president made things much more difficult. It's like fighting a demagogue where we can chop off one head, but more and more heads will grow. We are still moving, and it might be messy, but we are still moving in a positive direction. Some days, I feel kind of beat up, but I keep going because there are so many other people that came before me that put in enough work to even allow me to speak my voice. I have to pass that on.
I am currently enrolled at Santa Monica College as a sophomore and my major is political science. I plan to transfer out in June. So far I have gotten into all of the schools that I have applied to and I am planning to attend UCLA this Fall. I want to be an immigration attorney because having parents and other family members that are immigrants has shown me the issues that they face not having their papers. Knowing their struggles, and how the United States can be so unwelcoming at times, made me want to go down this path.
I don't have the money to go to law school, but I'm going to figure it out. That's what I want to do. If there is one thing I have learned from the Strategy Center, is that if you propose an idea, you're responsible for the idea. So, you gotta make it happen.