I am Here, I am Speaking: Youth Leadership in the No Cops in School Movement
< back to The Newest Abolitionists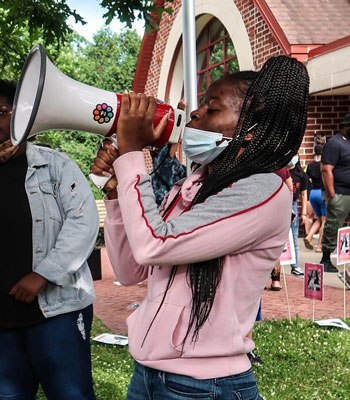 By Ashzianna Alexander
Freedom, Inc., Madison, Wisconsin
With the assistance of Liam Hoey
University of Massachusetts Boston
Ashzianna Alexander is a student activist and an active leader in Black Girls Matter, an organization in her high school. She is also involved with Freedom Inc., a social justice and leadership development community organization. With Freedom, Inc. Ashzianna has become a leader in the No Cops in School movement advocating for the removal of police in her school. She also advocates for community representation in decision making including alternatives in her high school's curriculum that students can learn and profit from. Ashzianna speaks on her experiences through high school and her efforts in the movement. One day, Ashzianna will lead a big march.
My name is Ashzianna, and I am a sophomore in high school. I started out in Black Girls Matter which is a group for Black girls in my community. My friends told me about it and that's how I got started in organizing.
In Black Girls Matter, we learn about African American freedom fighters and how African American women overcame the obstacles that they've been through. Black Girls Matter holds events for the youth. We did a talent show and we made up a dance for our talent show to keep it hype. We do fundraisers. If they want to, we also have a few go up to the school board meetings with us. I put a lot of care into the work to set a good example for the group, and I am passionate about what we are learning.
Because of my passion for learning, I was introduced to the Freedom Youth Squad (FYS), which is part of Freedom, Inc. and that's where I learned about the No Cops in School movement. I have always been the type to write poems and raps about things that are wrong, like in sixth grade when I did soapbox speeches to get my voice heard. With FYS I learned more about the importance of my voice and to have confidence in speaking up. I started writing speeches and learning history about what cops do in school and the way they abuse their power. And that is how it all started.
No Cops in School
Once I started working for FYS, I became a leader for the Black Girls Matters group which also participated in the No Cops in School campaign. I wrote speeches and sent cards for school board members to get our message out.We would attend school board meetings to tell them what we want. It was hard at first, but one of the FYS members would come up with us so we can feel comfortable as we go up to speak.
The way that the school board members act towards the people who speak up, though, it was without care. They did not even pronounce people's names right.
I would say, "I am here, I am speaking. You want us to come up here and speak about what we believe in?" They would have security guards there and all this extra protection when people are just fighting for what they believe in. On top of that, I am coming up here and I am saying what I have to say, and they're putting a timer on me. If I do not say what I have to say in this amount of time, they stop me— they interrupt me and tell me my time is up. They really do not show that they care. I did not like that, each time getting angrier and more tired speaking about what I feel and just not feeling heard by the people that are supposed to keep my school protected— our schools. How are they going to keep us protected? The people are advocating for what we believe in and they show that they do not care.
When we were at the school board meetings, we will all just get loud or get all rowdy or do chants. We make a scene to let them know that we did not come to play. I just love doing that. It just brings out a different me.
We told the school board about our experience with police in school. Cops just stand in the hallways and look intimidating and tell kids to go to class. A lot of officers will walk through the school trying to find kids who look or smell like they are using drugs. They start threatening to do searches and bring dogs in. I say, "Why are y'all trying to make kids scared to come to school? Why are y'all trying to enforce things that y'all don't have to enforce in school?" Kids come here to learn, but they are feeling threatened. Police make kids act out. When they feel a threat, they hide.
Police are always getting in the middle of things that they do not need to. I saw a kid get yanked away from an argument just because they were about to fight. But you do not have to yank students just to stop a fight. Students can learn to channel their anger or deal with situations so that they can walk away from it. Instead, police make them even angrier and touch them in ways they do not want to be touched, especially girls. Girls will say that they did not have to touch me like that. Police are over abusing their power. That is why I stay far away from them. I don't like police and they don't like me.
Through our organizing, we got the police taken out of our school. Ever since then, the teachers notice me more than before. A chemistry teacher came up to me and he was like, "You're from Freedom Inc., I know you, I love you guys' work." They put one of my pictures up from one of the Black Lives Matter marches we did in the school. I feel like they started seeing where I was trying to get with things. Before, I really didn't have a voice. But once I got cops out of school, they want me to do more in school. They want me to help them build programs that will help kids solve conflict without having police around or without having to get detained. They also want my help with building a class for African American students.I feel like they are starting to recognize things they should have recognized a long time ago. And I want to help them with that.
They just recently installed a history course for African Americans. I took it and I feel like that's good, because they need to start putting in programs that kids would be interested in, instead of making school a place where they have to feel like robots.
Kids Voices Matter
I want to build an R & B class for students so that we can learn and profit from it. Every kid that I know, through eighth grade to high school, listens to music in school, or uses music to focus or stay calm when they are taking a test or when they are just in class working or they just want to block everything out and focus on what they have to do. Music has always been a way to take people's stress away.
I noticed that African Americans, we really do express ourselves through music. In an R & B class, students can make music, write music, learn about the history of it, and the culture of music and just vibe. We could make it into a curriculum class so that students could learn from it, profit from it. It will just be an amazing class.
Teachers believe that, if students have their headphones on, they could be cheating. But students just want to be calm, they want to listen to music. This generation of kids is different than the next. People in generations evolve and schools need to evolve. Why do teachers and principals want students to do the same things and learn the same curriculum? There are so many music classes, why can't we have an R & B music class?
If I were head of the school board,thefirst thing I would change is that it is not diverse with our counselors or with our teachers. And when I mean diverse, I do not mean just African American, I mean Asian, Hispanic; it needs to be diverse. Right now, kids do not trust a lot of counselors because they may call Child Protective Services and ruin things for them. That needs to change.
I would also change the pay for teachers. They go through so much just to be underpaid. They are the reason that one day a kid will be a doctor. They are the reason that I am doing what I do and I know how to write political things. They should be the top paid payers if you ask me; they do so much. They build knowledge upon knowledge upon knowledge. So why are they underpaid?
Kids voices matter but they do not get heard enough becauseadults assume just because they are older, kids do not have enough knowledge to speak. A lot of people in the Black community shut their kids voices down too. As an adult, what they say goes. But our voices matter too— how we feel and what we say. What we say should be respected. Just because we are young does not mean we are not smart; or you have to talk down to us to make us think we're not as smart as you. It's something that needs to change if we're going to come together as a community.
To Lead a Big March
Freedom, Inc. did change me. I had more opportunities to speak up. They told me how important my voice is, just giving me more confidence about that. Freedom, Inc. really did help me and steer me in the direction that I needed to be in. I would probably not be as far as I am now without their help.
Through Freedom, Inc. I got the chance to take a trip to Atlanta. It was just a whole bunch of females. We all came together to talk about problems as females and transgender justice and all type of things. It was just amazing, because it was women empowerment. And it gave me so much confidence. That was really fun for me.
This past year on zoom with FYS has been hard because we all love each other. We love being around each other. We love learning new things together. It is just hard.
I want to go to an HBCU when I graduate. I want to learn about African Americans and our history. I also want to do business, but I want to do business for my African Americans. There is a lot I want to do in the community.
I'm going to stick with Freedom Inc. throughout my years. And I'm going to stick with being an activist throughout my years. One day, I'm going to lead a big march. This is something that I am continuing forever.