< back to The Newest Abolitionists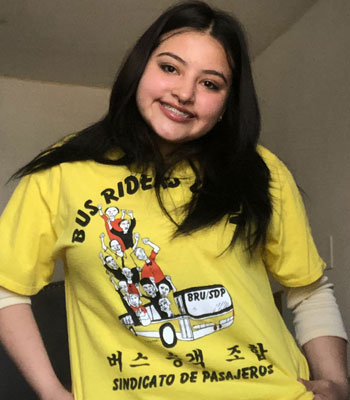 By Alexa Salazar
Labor Community Strategy Center
With the assistance of Chantha Son
University of Masachusetts Boston
According to Alexa Salazar, Boyle Heights isn't the LA you see in the movies. It's full of culture and, more specifically, has a large Mexican population including her own family whose struggles inspire her to speak out against injustice. Alexa attends Roosevelt High School where she learned about her Hispanic heritage. It was where she found out she was different. She is motivated by the work Taking Action does to stop abusive policing practices and has even brought her mom with her to protests. Alexa hopes to one day share more of her story so that she can teach others just like her.
There is a lot of history in Boyle Heights, the community has murals everywhere! Right by my house is a mural of Selena! And by the bar, there's a Mariachi Band. It's great because there are a lot of Latinos here, and I feel a great sense of community. There's even Cesar Chavez Avenue! I don't know if the murals are done by any of the students in the neighborhood, but it would be great if they could be.
I attend Roosevelt High School, where it's majority Mexican. It was also where I took Mr. Lopez's ethnic studies class. It was the first time I learned about my culture and how it isn't really portrayed in a lot of history books. I thought this was interesting and I was a little upset about it at the same time. I thought to myself, "Why are we learning about everyone else's culture… but when it comes Hispanic Culture, it wasn't a part of the regular curriculum?"
Mr. Lopez's class helped me to think about where my family came from and how hard they fought to be here. It reminded me of why I should keep pushing forward and to use my voice like they did. I believe it's one of the most powerful tools I have to use in the fight against adversity. I just don't know how to explain it, this feeling, you really can't!
I identify as female. I am Latina, and I identify also as Native American. It matters to me because of the resilience that my ancestors hold with it. It makes me motivated to learn about my history, just knowing that I have so many ancestors that fought to be here. It reminds me of why I should keep pushing forward and use my voice because they did it, and they've made this whole space so we could be here. So that's why I love my race, it's powerful.
Taking Action
I started attending Taking Action meetings, sponsored by the Labor Community Strategy Center, shortly thereafter. I attended a few meetings here and there, but at the third meeting a guy named Kevin shared his story about how he was affected by racism and the criminal justice system. The vibe was immaculate! Over many meetings, I became united with them in their experience. It really hit close to home because it showed that it was affecting people close to me.
After several Taking Action meetings, I joined my first protest with the Los Angeles Bus Riders Union. I also invited my cousin to come with me. We were protesting white supremacy by standing with nationwide Black Lives Matter protests. It was a life changing moment for me to be around people who had the same beliefs as me. It felt good to be heard.
The ability to think about racism and criminal justice really sparked my interest about my encounters with the police, especially at Roosevelt. For example, they use to conduct random searches on students, which they stopped. But before COVID hit, they were also ticketing students for being late in the morning. It's ridiculous to me because a lot of people in my community take the Metro to get around; it was not fair to us to have to pay a $250 fine just for being late. The Strategy Center helped to end the ticketing and I thought, "I want to be part of a cool organization that does something like this."
Personally, I think the police at Roosevelt want to make people scared of them. I think it works because of the way they treat people. I wouldn't say all police are bad, but it feels they can get away with a lot sometimes.
There are some things they should be dealing with and there are some things that they shouldn't be dealing with. Personally, I believe there are a lot of students here with mental health issues because of the way we were raised by our parents. I only realized this after my own therapy sessions. I have a lot of anxiety. Before my mom found my therapist, I had this "let's put everything aside and move on mentality" in dealing with things. Therapy has helped me a lot, so I would rather more money go into things like therapy instead of funding the police in schools. Right now, I think we have one therapist for the entire school, so it's a lot for her to take on. And we only have a few counselors.
Outside of school, my own experiences with the police and my family have not been good. I remember an intense altercation with my aunt who was in an abusive relationship with my uncle. That night, my mom got arrested by the police, even though she was trying to help out the situation. I was like, "You're supposed to get that other guy – my uncle – not my mom," so that was a little traumatic. I saw her get taken away and then stand trial for being a part of it.
Police have also attacked my brother when he went to school. They said he looked like someone who could be selling drugs. Because he felt unsafe, and my mom felt unsafe, I felt I should be concerned.
Personally, it freaks me out when I see police on public transit. They target Black and Brown people and demand to see their tickets. I have never been asked for my ticket. I personally think it's because I'm light skinned. I have seen how they react to other people around me and it always seems to be related to race. If they ask for one ticket, why don't they ask for everybody's ticket? And why do they always do it on my train to Boyle Heights?
Right now, Taking Action is trying to prevent Metro from investing $111 million more dollars into the LA Police Department. This is already on top of $605 million they have given. It doesn't sit well with me because there are statistics out right now that show crime rates on transit are going down, so why would they want to do that? $111 million dollars could help fund a lot of other things, like student bus passes. And it would open up a lot of opportunities for so many people like me to have more access and remind them that there's more than just our little spot in Boyle Heights.
It also builds on our previous movement where we successfully de-funded the LA School Police by $25 million last summer and another $25 million this Spring. I got to speak to the board about the issue. And right now, we're trying to make sure the money goes to improve primarily Black schools and hire more counselors and therapists. We won this victory because we reached out to a lot of people and we had a lot of students speak up which helped the board by opening their eyes.
People Are Very Powerful
At first, my mom didn't support my involvement. She didn't like the fact that I was going out and organizing, because she didn't want me getting hurt going up against the police.
But I brought back what I learned and helped her see things the way I saw things. I educated her about how powerful people can be. I showed her the Truth to Power documentary about System of a Down Frontman Serj Tankian (a heavy metal musician). It's about the Armenian Genocide and how it affected him. Music helped him reach out to people, and the people took on the government. It really showed her how powerful we could actually be. She's even said she would attend the next rally with me.
My family doesn't think that they could change the world, but I think people are very powerful. The government runs from us, not the other way around.
I don't know how I will continue engaging with Taking Action after I finish school at Roosevelt. But I've learned that I really like history. I also enjoy sharing what I have learned with others. A great example of this was when my brother found out that we weren't only Mexican-Mexican but also Native American. Ever since, it's added a whole new layer of meaning to me.
I still want to become a robotics engineer. I also want to educate people on history, so I'll probably be a history teacher as well, or something where I can do both. Taking Action has taught me so much, it's a place to make friends and build community. It's nice to hear the stories, to have the same reactions and a shared experience. I'm excited to have the opportunity to do something so engaging with my community.