Police Free Schools is What is Going to Transform the Country:
A youth organizer's vision into creating a new generation of abolitionist society
< back to The Newest Abolitionists
By Leidy Robledo
Center for Popular Democracy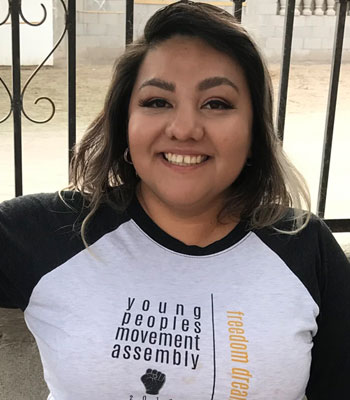 With the assistance of Dadasaheb Tandale
University of Massachusetts Boston
Leidy Robledo narrates a powerful story of how she started organizing for her rights as a student while she was still in middle school. Soon after, Leidy's family moved to Colorado and she attended a predominately white school. She came face to face with the disparities in terms of policing and resources between the schools she had studied all her life and the current school. Identifying as a Brown Latinx woman and working closely with a group called Padres & Jóvenes Unidos, Leidy came to understand the need to remove police from schools. This was a huge shift for her as growing up she had seen policing in schools as normal. Moving back to Arizona as an adult, Leidy led a program for youth organizing connecting immigrant rights and criminal justice in an organization called Puente. Leidy worked extensively with youth on a "cops outta campus" campaign to break the school-to-prison pipeline. Currently, working with Center for Popular Democracy, Leidy uses her expertise to help youth and their organizations create police-free schools campaigns across the country. Leidy reflects upon her own experiences of working with youth organizing for police-free schools which she believes is the key towards bringing a change in the country and creating a new generation of abolitionists.
I have a T-shirt which I keep close to my heart. It is a reminder of how far I have come. It was given to me at our first young people's movement assembly around school police, hosted by Rethink New Orleans. At that time, they were trying to gather like-minded groups to think about launching camppaignss for police-free schools. It a learning space for us to dream and strategize. This was right after Trump had taken office in early 2017. We were having very real conversations around what we were going to face for the next four years and what we needed to do to begin to resist. We knew Trump was going to strip us of our civil rights and people were going to be fed up, so we had to plan something really big – not just reform school discipline but actually push to remove police from schools. I had decided to go back to my original home community, where as a Brown Latinx woman I could make a quicker connection to organize with Black and Brown folks to push for big change.
Realization of a "possibility" of change…
Growing up in Phoenix, I went to Carl Hayden High School in a predominantly Latinx community. It was on the West side of Phoenix. A lot of my friends were undocumented, immigrant first generation students. We grew up in a neighborhood where a lot of folks were undocumented and working class. My own parents barely got their documents two years ago; they weren't documented for 20 plus years. It was a constant fear. One time my dad's siblings went to Mexico to see my grandmother, because she was really sick. They were all caught coming back. Because of that entry they cannot get legalized. They're stuck in that position until there's a change of laws.
I remember being nine years old and having to translate legal documents because they were too afraid to go anywhere else for help.
Something as simple as filling a free school lunch application was really hard for me as a nine-year-old. My siblings and I lost our childhood very early since we had to help our parents navigate the systems here.
In the 2008 recession, during my senior year in high school, my parents lost their home. We had to forsake everything and move to Colorado to work in the fields, because that was the only work available at that point. That's where my eyes began to open. I went to Central Greeley High School which was predominantly white and middle class.
When I went to the campus on the first day I realized, "Well, it doesn't have a fence." There were no real security folks; the guards weren't actually securing the building but were there for added support to staff. You were not required or forced to wear your school ID at all times. The new school was an open campus so people could go out, get lunch, and come back. My old high school had three police patrol cars. If you weren't documented and didn't have a driver's license, it was really hard to drive to school. We didn't have lockers. The gym had lockers, and dogs were constantly brought in to check them for drugs.
I thought that was just how schools were. I thought every school had security guards who always yelled at you and police officers who had tasers and a gun on them. This was just such a different place that you felt like an adult. You felt trusted. You felt like you could take on responsibility because people were counting on you. As opposed to just being yelled at all the time.
Even in that environment I always tried to challenge myself academically. I was taking the most advanced classes my old school had to offer. I had signed up for all the AP tests they offered and joined the self-organized AP Study Club. As a junior I had only passed my AP Spanish test. I was surprised to learn that my new high school didn't only offer the opportunity to take the AP test on many subjects, but they also offered full year AP classes. I had no idea school offered that! I signed up for any AP class I could fit on my schedule. That was the turning point.
On the first day of my AP English class, I was given a list of books that I should have read by my senior year, to use in my AP test. Except for two Shakespeare titles, I had never heard of these American classic novels. I remember feeling set up to fail because nobody told me to read those books before; I love reading books but had never heard of these titles. In fact, I began to reflect that in my old high school we were never given books to read for homework. I assume the school didn't have enough copies for all of us and knew there wasn't a public library in our neighborhood. Instead, all of our reading came out of a giant textbook with short excerpts or chapters of novels, but never an entire book, except for a Shakespeare play or two.
Taking leadership role in life early on…
As immigrant, my parents' dream was to give us the best opportunity to succeed which they might not have had in their homeland. And part of that is education. So, they were always pushing me to be a part of school and told me, "if there was something I didn't like about school, to change it." My mom was very active or as active as she could in our local district. She was always taking me to school board meetings and always on parent committees.
I think I was always a natural organizer. One of my first memories of organizing is from middle school. When I was in seventh grade my school appointed a white, very racist principal even though we were a predominantly Brown school. The students were forced to say the Pledge of Allegiance outside in Arizona heat. I asked students whether they agreed with the policy. When I got a resounding NO, I made them see there wasn't enough administrators and teachers to force us to do something we feel isn't right. We decided to defy it, but we were going to need everybody to participate for it to work. We needed to get the basketball captain and the cheerleaders to join our action to have a majority of people. I wrote down all the different clubs and began delegating who would convince them to join, which is really what you do when you're organizing. This was the first time I was sent to the superintendent's office because I was unruly. Many years later, when I met the Padres y Jóvenes Unidos group, they told me about being an "organizer" as a job. I thought, "What! This is a job that you can do for a living?" I was sold that this is what I wanted to do. I was sucked into it because I had already had that leaning towards that. I got involved with them as a member, then was hired as an intern, and promoted to a part time organizer very quickly.
Youth organizing for change in the school system
In 2012 the Alliance for Educational Justice (AEJ) hired me to be their youth development specialist. One of my primary roles was to support the Youth Justice Corps, which funded youth leaders to organize in our AEJ member organizations. We facilitated national convenings, regional movement building labs and ongoing monthly calls to develop our national platform on education justice, with a priority to the school-to-prison pipeline. During this time the outrage and sadness of the killing of Trayvon Martin at the hands of a vigilante and the killing of Mike Brown by police heavily influenced our work. In addition to providing organizations with support for rapid response, AEJ developed an analysis on how state violence targets Black and Brown youth. AEJ member organizations then launched the End the War on Youth movement to not just end the school to prison pipeline, but also address other forms of state violence youth experience. The connection of police in the school-to-prison pipeline became inevitable as AEJ got asked to support rapid response campaigns against school police assaults on students. We began to support these campaigns, understanding that a school police assault is undeniably an act of state violence on our youth.
In 2016, I was pulled into a local Arizona campaign to get rid of the Sheriff of Maricopa County, Joe Arpaio. This was my first time doing electoral organizing. I brought with me my youth organizing experience and engaged high school students in the campaign. We built trust and a space for young people. In addition to recruiting youth to their teams and canvassing our neighborhoods, youth staged a walkout on election day. We had a big success in defeating the racist sheriff, during one of the most difficult election cycles.
After this success in Arizona, I was recruited by Puente, an organization fighting for immigrant rights. They were trying to start a youth program that would connect immigration justice to the criminal justice fight. I chose to organize at a high school on the south side of Phoenix. Due to segregation, red lining and other racist housing policies, the South has been historically Black, Indigenous and Brown. It was geographically isolated, with very little resources and support. In short, it would be one of the hardest schools to organize. Students had mistrust about outside organizations. I hung out at bus stops after school to get to know people and listen to their stories. A co-worker helped secure a presentation in the school around the school-to-prison pipeline. A youth shared a story about being ordered to get down on the floor at gunpoint by police when he was walking home from school a few weeks earlier. The school police were looking for somebody who had stolen from a convenience store and they thought it was him. He was left with scratches on his belly from where they threw him down to the ground at gunpoint. His parents weren't home, so he didn't really do anything or tell anybody. He was really scared when it happened but shared the story very calmly, as it was common for people to have similar experiences with police. I knew I had to connect to other young people creating a space to share like this. He brought back three other people with three other stories about police assaults and those youth brought more. We also began to focus more on the impact of police presence in schools. At this point, nobody in Phoenix had actually taken on school police as an organizing campaign.
During the same time, Trump had issued executive orders making it easier to detain and deport undocumented people. The conditions were so bad our only defense was interrupting law enforcement interaction with our community members. We had to take a radical stance. It didn't matter if they were a good cop or bad cop – we couldn't allow our communities to be in contact with police because that starts the school-to-prison and school-to-deportation pipeline. As an organization we had done "Know your rights with ICE" (Immigration and Customs Enforcement) as part our campaigns against Joe Arpaio. Now, we had to expand it and include "Know your rights with police," because any interaction with police could lead people into ICE. This led to our students talking about police presence in their schools and our organization launched the campaign "Cops Outta Campus." The students were excited, and their parents were ready for it.
Given the organization's years of experience holding Maricopa County Sheriff accountable, we understood clearly what it would mean to be against the Police Department in Arizona – taking on such a powerful institution; their reach was so great that it actually seemed like a police mafia to me. Our traditional allies were hesitant to join such a radical campaign. We knew we were going to have to change hearts and minds of our own people as well; even people in progressive spaces because they were not ready to risk so much for a campaign like ours, especially in Arizona. Phoenix didn't have a history in education organizing or in police organizing and I had very little local support. We quickly engaged different stakeholders like school board members and parents to listen to our youth concerns. It was one of the proudest moments in my life but also one of the loneliest and scariest. The police targeted us as well. I've never received more city and police tickets than when I was leading Cops Outta Campus.
All of the base work we did helped win Police-Free Schools in the Phoenix Union High School District last summer after the uprising against police and Movement for Black Lives protests. It was exciting work, but I was doing everything: from getting five-year commitments for fundraising to actually driving and picking people up at their high school. All this work was happening under a Trump administration, which meant we were having to respond to one attack after another. I was able to secure enough funding for the program to stay open for five more years. But I was really burned out.
I stepped back and took a short break, but an organizer cannot stop organizing. Now I work with the Center for Popular Democracy as the youth organizing manager. One of my roles is to help affiliate organizations build enough people power to win Police-Free Schools campaigns across the country. After the murder of George Floyd last summer, a lot of young people wanted to see changes. As an experienced organizer in one of the original campaigns to remove police from schools or "Cops Outta schools," my role became critical in guiding organizations to use the moment to recruit people into long term campaigns and build the power to pressure school boards to adopt resolutions for police-free schools.
Police Free Schools is not just a policy demand. It is a long-term vision that re-humanizes our youth. Like in any long-term movement for transformational change, there were wins and losses. For example, we won data collection on policing, but then it was not enforced. We got rid of suspensions, but the racial disparities are high, and arrests are still too high. Being able to meet with other comrades and organizations fighting for police free schools was important to reflect on those lessons and to build the Police-Free Schools vision with an abolitionist framework. Through this level of solidarity, we are able to figure out what types of policies and reforms are really creating police-free schools. We want to make sure that our schools are not doing something symbolic but making real changes that disrupt the school-to-prison pipeline. I'm proud of the police-free schools movement, which is changing the way the whole world of public schooling sees law enforcement and the criminalization of students.
Growing personally as well as professionally in the movement
I personally grew a lot. When I came into this work, I still had a lot of biases like anti-Blackness that I brought because of my upbringing. We all struggle with different levels of oppression. The political education of the movement pushed me to think about liberation – the ability to practice self-governance and self-determination. Understanding the concept "to be whatever you want to be" and what are the real obstacles that prevent us from living life to our fullest was challenging because it's something we don't get to think about. More importantly is how our campaigns fight to give us the opportunity to do that. Once I understood that, I came to an understanding of what it is to be free. My entire life is dedicated to the movement now, my entire life.
It was almost like a shield came off of my eyes and I saw the world in a very different way. I realized this is what I wanted to do for life-to help people to go through this process. Youth organizing is bringing something very different – political education that goes beyond just the issue. It's like building the vision for a different world.
When you politicize 30 students, you have potential new doctors, nurses, and teachers that are going to have that liberation belief and are going to take that framework to whatever they do in life. So, the police-free schools campaign is not just about getting police out of schools; it is about giving youth a chance to live to their fullest when they are not criminalized. It is like pushing forward this abolitionist framework and politicization of people's minds. The real take-away of the movement for me is to grow a generation who believe abolition is possible, because that's really what's going to really shift the world.
Making these policy changes at the middle school or high school level offers us a testing ground for something bigger. There are many examples of policy being passed and enforced in schools first, then becoming a national law. For example, during civil rights movement, segregation ended in schools first. With our movement we want to show that young people do not need to be policed but to be loved, cherished and nurtured. I feel that winning police-free schools is the gateway to being in a police-free world.
The reasons that our movement became a success was because it was the correct thing to do.
I think of the chants like "who believe in freedom cannot rest" and the quote "power concedes nothing without a demand." We are morally correct in demanding police-free schools. Further, we took the risk. We made an assessment that getting more targeted by the police department as an organization or personally through city and police tickets was worth it if another student doesn't get slammed to the floor by a school police. I also trusted the movement to continue the work. When I step out, I know I have changed enough minds that somebody is going to continue doing the work.
But at the end of the day, it's about building community. It is about believing in the experiences of youth who were policed and building connections with other students as well as their parents. I think it is a waking up moment for youth – because when we win this, we are going to transform the country!