Don't Tell Me the School-To-Prison Pipeline Doesn't Exist: A Youth Leader's Journey from Speaking Up in Class to Shouting Out in Protest
< back to The Newest Abolitionists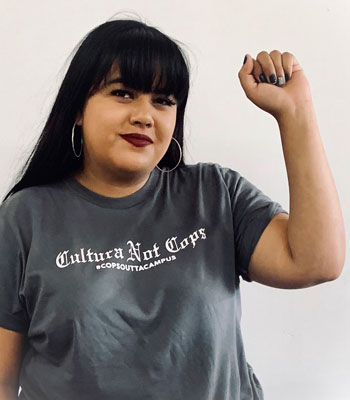 By Michelle Ruiz
Puente Human Rights Movement, Arizona
With the assistance of Kelly F. Brown
University of Massachusetts-Boston
Michelle Ruiz is a leader in the Arizona fight for safe schools. As an active member of the Cops Outta Campus movement, Michelle has long been motivated to fight for the rights of students of color, like herself, so their experiences at school would be better than her own. Inspired by a family of hard-working, inspiring male leaders, Michelle became a strong, independent Latinx advocate from a young age. She carved her own path, learned to navigate new experiences, and now leads others in the fight to create fair learning opportunities for youth in the Arizona Public School system.
The goal for when students in Arizona return to high school is that they may feel safer. The goal is that there will be less looks over their shoulders and that they can finally walk down the halls without the fear of being arrested or deported. When students and teachers return to high school in Arizona it will be with no school resource officers (SROs). The contract that had kept nine SROs patrolling the halls of the Arizona high school system was terminated in the summer of 2020. My name is Michelle Ruiz, and I am a first-generation, Latinx woman that has grown up in Arizona. I am a Youth Organizer at the Puente Human Rights Movement, and at only 22-years-old, I am proud to say that I was a part of the movement that made this change possible.
Where I Began
As the only female at home for most of my life, I was responsible from a young age for taking care of my brothers – cooking, cleaning, and looking after things. I learned to be independent early and stand up for myself, and that served me well as I navigated my own education. I grew up hearing about my grandfather, a man who built his first home out of cardboard and now lives in a two-story home. My grandfather, one of my biggest inspirations, taught me the importance of giving back to my community. This was a trait that my father would also instill in me early on, as I watched him run his own business and put money back into our community. These men played an important part in why I later found opportunities to give back through my time in high school.
I Went to High School
The process of beginning high school was a bit of a mystery, unknown territory that required charting a new path. Despite having an older brother, I was the first to attend an Arizona Public High School. I knew from a young age that the main reason my father migrated to the U.S. from Mexico was for me and my brothers to get an education. I also knew I could not get into any trouble. As a child of an undocumented parent, getting in trouble could mean my father's deportation. So, I attended high school and tried my best to stay under the radar. However, I struggled in some of my class because English was a second language, and I often ended up reteaching myself the content after school. This frustration caused me to ask about attending online school in my freshman year. After being clear about my intentions and reasoning for wanting to switch to an online format, I was denied the opportunity by the administration. So, I chose to transfer schools and at the start of my sophomore year, at 15-years-old, I began attending Central High School.
When I started at Central High School, I noticed a change right away. This school had a reputation for being the worse of the two schools, with supposedly more drug use and more students fighting and getting suspended. I didn't see it this way. What I did see was a police officer in the hallways. What I did see were kids, like me, afraid to get in trouble. It felt like the adults were just waiting for us to make a mistake. It became normal to see a student just go to jail and never come back to school. It felt like everyone knew at least one family member or friend that had been arrested or gone to jail. I knew this couldn't happen to me. I couldn't risk getting in trouble because that would mean I'd lose my father. But, in my senior year I came up against a situation that I just couldn't back down from.
English had always been a challenging subject for me, but senior year I had to write a paper that ended up steering me towards my future. Our teacher had given us the assignment of writing a research paper about any issue that impacted our community. I had recently attended a community workshop about the school-to-prison pipeline and was overwhelmed by the new ideas I had learned about and decided to use this opportunity to write about my newly acquired knowledge. When I spoke to my teacher about my plan, she immediately shot it down – according to her, the school-to-prison pipeline didn't exist. I was in shock. How could she not believe that this phenomenon was real? How could she not see the research I was presenting? Even more, how could she not see me, standing in front of her, hear me telling her about "my experience of how I'm living, how I've experienced living here in Arizona in the public-school education system." I decided to write the paper anyway, but I was worried because I needed to pass this class to graduate; it was the only class I was really concerned about.
At the same time, this teacher began singling me out in class for being involved in community groups outside the school. I began feeling uncomfortable, so I started to skip class and hide in the bathroom. I didn't want to get in trouble, but I couldn't tolerate being in that particular class anymore. Eventually I was caught skipping class and my picture was sent around to the SROs and other teachers. Having my picture sent around felt like my mug shot was everywhere in school, and nobody was concerned about why I didn't feel safer, or why I didn't feel comfortable being in that class. It was just like a demand: "Hey. You need to go or else you're going to get suspended." And so of course I decided to go back, because I was not trying to get in trouble. I turned in my paper about the school-to-prison pipeline, but the teacher wouldn't let me present it in front of my peers. I was given that opportunity later in the year when I joined the Puente Youth Movement and presented my issue to the school board. I invited my teacher, but she didn't show up to listen.
Becoming a Youth Leader
Being involved in the Puente Youth Movement sprang from my involvement as a program coordinator with the Academic and Leadership Accelerator Service (ALAS) program. The ALAS program assists students of color, low-income students, and first-generation students by preparing them for college and leaving them with values that include giving back to their community. As a first-generation student, I found ALAS on my own because I knew my school was not preparing me. During my time with ALAS, we were invited to attend a march for Martin Luther King Jr. Day and I learned about Puente Vision. This was a group of students that focused on taking photos of protests and testimony videos for families that were impacted by the deportations taking place under President Obama's administration. I continued with work with Puente Vision until 2017 when the Cops Outta Campus movement began.
We began the Cops Outta Campus movement by asking questions of the school board: How many students are suspended every year? How many times is a police officer on campus and in contact with students? How many times have students been arrested off campus? The school board didn't have answers to these questions. They had never collected data on these issues. We started off by demanding data. We wanted to know the specific numbers related to having Student Resource Officers (SROs) in the high schools. Once districts began collecting data, it became clear that the data was not accurate; presumably because students were afraid to report instances of violence and because the procedures in place for reporting situations involving SROs were flawed. In addition to our initial demand of removing SROs from the schools, we also began demanding restorative justice, and not just police officers sitting in circles with students, but that the right people who knew how to run these programs were brought in. We also requested ethnic studies for high school students who wanted to learn more about their culture, and we demanded that this curriculum be taught be people who actually experienced the culture.
Since 2018 the Cops Outta Campus movement has successfully brought ethnic studies and restorative justice programs into Arizona high schools. These programs are currently in the implementation phase. Our biggest success was in July 2020 when the Phoenix Union High School District announced that it would not be renewing the contract with the City of Phoenix for School Resources Officers. By ending these contracts, the school district brought $1.2 million back into the budget. Beyond the financial benefits, high schoolers in Arizona are now less likely to be deported, feel more comfortable in their classrooms, and teachers are becoming some of Puente's strongest allies.
I Am Not Done Fighting
The Puente Youth Movement's fight is far from over. When I began as youth leader in high school, I was only vaguely aware of my rights. However, in the 4 years since joining this movement, I have graduated high school and become a youth organizer for the Puente Human Rights Movement, which oversees the Puente Youth Movement. I am now working with other youth leaders to demand the funds that came from defunding the SROs be put back into the school system in ways that will help heal the trauma caused by years of punitive decisions and practices. We want these resources used to help schools think of and implement alternative safety plans. Despite the forward progress, schools continue to have situations like the one at an Arizona middle school where police officers used pepper spray to break up a fight. It was surprising to hear the reactions of teachers and parents to this particular incident, as some were still supporting the actions of those police officers. This incident calls to mind my own high school teachers, "teachers who were coming to our schools who didn't came from that community, don't understand, are scared to speak to us and it's kind of sad to see that they're scared to speak to us because we're all just here for one thing – to learn and explore our education." As a youth leader and organizer, it is my new goal to educate the public on the importance of removing police from schools and finding ways to heal from the trauma, so teachers are no longer afraid to speak, and more importantly, to listen to their students.
From my desk, I can see two posters hanging on the wall. The first is a black and white image of armed police officers in the hall of a school building. In bold letters at the top, the words "No Cops on Campus!" are boldly displayed. The poster, encased in a simple black frame, is a reminder of my beginnings. Starting at the very beginning of the Cops Outta Campus movement, with a straightforward goal in sight – no more SROs in Arizona high schools. Next to this image is another poster, also framed in a similar black rectangle. This poster, however, is bright blue. A proud woman is shouting into a mega-phone. She looks strong. Determined. She is yelling her message to all who will listen; her words echo onto the page in text, "Police Free Schools Arizona." Hashtags under her image call attention to the movement I am so proud to be a part of – #copsouttacampus and #defundpolice. This image represents my future. Standing tall and proud, as a Latinx woman. Ready to continue the fight, as my father and grandfather did before me, to make my community a better and safer place to be for those who follow.