< back to The Newest Abolitionists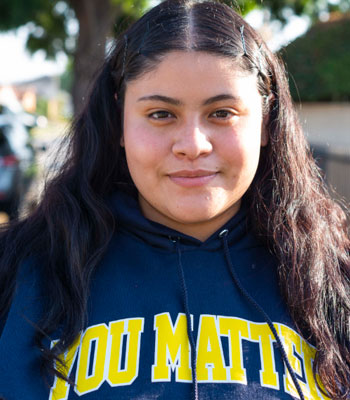 By Brigette Amaya
Senior Organizer at Labor/Community Strategy Center
With the assistance of Asa Peters
University of Massachusetts Boston
Brigette Amaya is a senior organizer at the Labor/Community Strategy Center in Los Angeles, California. Brigette is 22 years old, having developed her consciousness, leadership and organizational experience since 2014 through the Strategy Center's "Taking Action Social Justice Club" in three high schools, which she now facilitates. Below, Brigette shares some of her story as an organizer working towards police free schools, as well as exploring the meanings she's made out of her story and experiences.
I identify as female, Latina, Chicana and Salvadorian. My family is from El Salvador, I was lucky enough to be born inside the U.S. which comes with a lot of privilege. The way I understand the term Chicana is: fighting against your oppressors. I see myself as a Chicana because I'm fighting for my people here inside the States but also in my own country, and Third World countries.
I would say I'm pro-communist. I wouldn't say I am a communist, because there's still a lot more to learn about that on my end. I do see myself as a leftist, pro-Black, and Afro-centric. As a Latina, I'm in the Latino community organizing people on why we need to support Black people. I believe Black people's liberation is a part of my own liberation against the U.S. Empire.
The organizing work that I've learned to do with the Strategy Center has really brought me into these identities. If you asked me in high school, "How do you see yourself?" or "how would you label yourself?" I would label myself as just female and Latina. A lot of my identities come from my organizing work, my experiences with the community, but mainly from working with our Director Eric Mann, Associate Director Barbara Lott-Holland, and Director of Organizing Channing Martinez. They play a big role with the identities I now label myself.
I have a Bus Riders Union shirt. It makes me think back to this rally we went to with BLM LA on May or June of 2020 at The Grove area in Beverly Hills with thousands of people. The rally happened after the murder of George Floyd. With the uprisings going on in Minneapolis, it had spread uprisings to LA and around the world. When I think about me wearing this shirt, I always think back to that time being at that rally. Being in that moment with thousands of people, I realized "Oh sh-t, I'm a real life civil rights organizer. I'm not just a regular organizer, I'm a civil rights organizer and a climate justice organizer." That's when I flipped the switch; really understanding the role I'm playing in the movement. That moment lives in my heart because that's when I realized the impact I'm able to make being a part of The Strategy Center.
High School
I went to Augustus F. Hawkins High School, which is in South Central. It was a fairly new school, and I went in as the first class of ninth graders. It didn't give the effect of walking into a prison, but that's what it looks like on the outside. You have these high metal gates, maybe like 12 feet tall. You have police stationed right in front of the school and on the sides of the school 24/7. Everywhere you went, you have cameras surveilling you.
I would say my class of 2017 and younger were moving away from joining gangs, getting into drugs or doing things they're not supposed to do (however there were a few students who did). But the classes above me, they would constantly get into a lot of trouble because they were already part of gangs, introduced to drugs/alcohol, and didn't really take their actions into consideration.
I don't think because students do drugs, it's their fault. There's a reason behind that.
My high school focuses a lot on restorative justice, which was hard for me to get into growing up. It was asking students to be vulnerable, and really pushing students to share their deeper thoughts to connect with each other. Our community circles were deeper than just having conversations. It was more like a group building moment. I had been in the same advisory from freshman to senior year, which really allowed us to be comfortable being vulnerable with everyone in the class. Seeing the difference of where all of us came from 9th to 12th , there was a lot of growth in between that time, and I was able to witness that. Now as an organizer, I am able to cherish how to have those deep conversations with students and people I work with.
Overall, my experience at Hawkins was a good experience because there was a lot of staff and faculty members that really do care about the students and want to make sure that they push through high school and even go to college.
Community
Growing up in South Central, I never really got to leave my community because of how dangerous my parents see our neighborhood. I never left LA until 2017 when I went to a conference about Restorative Justice with my high school teachers in Washington, D.C. Growing up here, I've never felt like I was in danger. There are times I felt that I wasn't safe, but I knew how to get out of those situations to keep myself safe.
South Central is my home. Even though I did have to get used to a lot of negative things like the police brutality and gang violence, South Central is somewhere that I always find myself comfortable being, especially because I know where everything's at. If there's anything I need, I know exactly where to go.
I definitely just wish my community could look more like a welcoming environment, because it doesn't look like that. You walk in and you see a lot of homeless people in the streets, you see our streets are so dirty and you see a lot of our buildings with graffiti.
But then you see the beautiful side of it too. You see a lot of community here, especially Black and Brown community. People willing to be together. We have an organic farmer's market a few minutes from my house here. We have multiple community centers. Over the summer the parks are the place to be. We have this program called "Summer Night Lights," where they provide food for everyone who comes up to the park, and activities to do going into the evening. My community does have a lot of perks to it, but it does need a lot more resources than it has right now, especially because of the homeless population. We need free/affordable housing, free health care, more organic grocery stores, good paying jobs, etc.
Police Presence, Joining the Cause
In school, there's this one traumatic moment. I can never forget it. I was walking out of school and the bell had just rung. I see a Black student who has a pencil in his hand. And I see the Black student just shove the pencil in the school police officer's ear.
I've thought about that situation a lot and it makes me think, "What did the officer do to that kid to antagonize him? To get him to the point to stab him?" In South Central, Black and Brown kids are not going to do anything to a police officer unless they were really pushed to that point to fight back. After the student shoves the pencil in the school officer's ear, they pushed him to the ground and arrested the student in front of the whole school. That's when I came to realize, "Why do we even need police?" That moment has been stuck in my head for a long time.
I've seen the school police use pepper spray on Black students, arrest them, and even start checking them like, "Oh, what hood are you from?" It's sort of like the police is banging on them as if they were a real gang. I believe the LAPD is the biggest gang in LA, but they don't want to admit that.
I've had a few encounters with the Sheriff's Department and the LAPD. With the sheriff's department, we were at a fundraiser in Boyle Heights that is located in East LA. It was a food fundraiser and they were selling tacos for Cesar Rodriguez's funeral. Cesar Rodriguez was murdered on the blue transit line by the Long Beach Police Department. When we got there, 10 minutess later the Sheriffs stopped by and were like, "Oh, Cesar Rodriguez, we are looking for him. Okay give us everything here, we're going to confiscate everything that's here." They just came, took over and ruined a family fundraiser.
***
I felt like I was just thrown into organizing. I joined the Strategy Center when I was a sophomore in high school, through our Taking Action clubs. They talked about the military weapons that the school Police Department had, and current politics. I didn't think about it much until I joined the Freedom Summer Internship in 2017 after I graduated high school.
The first day we met they showed us how to organize people: You want to introduce yourself, you want to say what school/organization you're from, you want to give them your ask: why are you talking to them? It built up a drive in me to really talk to people and get an understanding of what they think about our politics. Our politics are a little controversial. Free public transportation, no police in schools, no police on MTA buses and trains, no cars in LA. When I would meet with Eric Mann, our director, he would say a lot of controversial things that I had never even heard of. He was like, "We need to stop the US intervention in Venezuela." — Like what? The US is intervening in Venezuela? And about the military bases; there's 800 military bases around the world and that's something I didn't know until I joined this organization.
Organizing
My title is senior organizer, but I just say I'm an organizer. My main role is to recruit people into the organization. Right now, I'm working a lot with high schoolers through our Taking Action Social Justice clubs at Roosevelt High School, Augustus F. Hawkins High School, and Ouchi-O'Donovan High school. I'm working with each of those schools to build a base of 5 students per school — having about 15 to 20 students at each school, and building up their consciousness, leadership, and organizational skills to have them become an organizer like me. Really pushing them to take up that leadership role, which is scary to some. A lot of students don't want to speak in public. They don't want to be at a board meeting speaking. They don't want to get a megaphone and chant down the sidewalk. Until their consciousness is raised is when they are more willing to put themselves out there more often.
It does take a lot to work with students, but that's where group building comes in. Being an organizer is not just a 9 to 5 job. I'm working with Black and Brown students/working class families, and they're going through a lot and they need a lot of resources.
It's hard being an organizer because you get invested into these young people's lives and you keep showing them the path where you want to push them to. A lot of them are like, "Okay Brigette stop calling me out, stop asking me to share," but then some of them are at the point where they just share automatically. As people of color we're never being taught to take up space. I want them to feel that they can take up space in our meetings, or even when we have bigger meetings with our membership as well. I've been able to push them into a leadership role where they are now speaking at public comment, speaking at rallies in front of maybe two or three thousand people, and even organizing with me to talk to people on the buses and community.
That's only the youth organizing work; I also do transformative organizing, which we focus a lot on. Because we're a multi-generational organization, I'm not limited to just organizing high schoolers. I'm also out in the community talking to the older folks about our campaigns, events and politics. That can be interesting because most times older people I've came across already have their minds set on their politics. But once you introduce new ideas to them, many are willing to listen to what we have to say.
There's also a lot of prep work behind the curtains. I need to work with Emily on creating a curriculum for the week, I need to work on flyers, we need to phone bank. I work with Eric and Channing on continuing the momentum of our campaign. There's just so much to do, and not many people know the mental and physical work behind everything we do. So outside of just organizing people and really building relationships with them, we're also prepping the materials in the back as well.
Defunding the School Police in June 2020
We held multiple rallies outside of the LAUSD board office demanding police-free schools. There was a march as well. It was definitely a lot of organizing work trying to get parents and community members behind the students and organizations pushing for this. And that's hard because a lot of parents, especially Black parents were like, "No, we need police in schools." I understand where they're coming from, because I would say that even 10 years ago the school system was so different in LA. There was just so much violence in our schools. I understand where they're coming from, but they also need to understand that we live in different times. I'm not saying there's no violence happening in our schools, but it's not as extreme as it used to be or could be.
One of the things I focused on was just turning out people. Having 15-20 people there with yellow Bus Rider Union shirts, that will show something. It was a lot of organizing in the community: parents, even other students. Getting Latino students to stand for Black students. My biggest challenge was really turning out people during a pandemic. Especially when I only have a base of 15 students.
The day of the vote in June 2020, when they were going back and forth to see if they should defund the school police, that was a 12-hour meeting. The meeting started at nine and ended at 11pm. When they were like, "Okay, who's voting for what?" It was 11 o'clock at night, I was in my bed listening on my phone like "can they just vote already?"
Once we heard the four votes I definitely felt like a weight was lifted off my shoulder. It was a moment of relief as we have been fighting to get police out of school after we demilitarized them in 2014.
And even our recent victory, when we were able to have the money defunded from the school police to be focused on Black student achievement. That feeling of victory, it always feels great. In the Strategy Center we don't have a campaign unless we know we're going to win. We have had campaigns to defund militarized police, we won and they returned those weapons. We had a campaign to end the truancy tickets, and they ended them.
Current Organizing Goals
Right now, we're part of the Black Student Achievement Steering Committee. Channing is a part of that committee. We're talking to students and teachers in the 53 schools that have been approved as Black schools (because they have a larger population of Black students) to see how the resources that are being provided for Black students are working. It doesn't make sense to fund something if it's not working. We want to make sure that the restorative justice coordinators, the psychiatric social workers, the academic counselors and the PSA counselors are really helping Black students. That does come with having a social investigation with the students first. The steering committee is really there to be a space and voice for students.
We are still fighting to make sure we have police-free schools. We are going to keep pushing to make sure that we abolish the school police department, and we move all of their funds to prioritize Black and Brown students in LAUSD.
Challenges in Organizing, Championing Controversial Ideas
We've been saying "no police in schools" since I've been involved, for six years. I never heard any other groups call for the removal of the school police until the summer of 2020. I appreciate that people and organizations are now taking a stance against the police and have the same goal: Police-Free Schools. However, before fighting for our futures, we have to acknowledge how we were able to get here. We couldn't defund the school police without demilitarizing them first; we couldn't defund them without ending the truancy ticketing or the willful defiance charge that they would use to suspend Black students.
Organizing Latinx students is a challenge as well, because a lot of them have family members that work in LAPD or the sheriff's department, so they really get defensive. When we talk about the police in schools, they're like, "That's not fair, you're trying to take their job away." I did this presentation in February 2021, I'm like, "Yeah, do you think his job is to kill Black people?" People were like "that's not fair to say." "Well, that's what a lot of police officers are getting away with." Sometimes I like to set the edge of the room, I like to say some real controversial things as well. It's just hard to really have students think in a deep manner because they're just really stuck in their bubble and thinking, "What about me? What about my family?" just very individualistic. I'm there to try to pop the bubble.
We definitely like to be controversial here at the Strategy Center, and I think that's how we get a lot of people to look at us. Even when people pass by our buildings, they see our five demands, including "no police on the buses." People ask, "Who's gonna keep us safe?" We usually respond with, "Well, first of all, do you even feel safe with the police on buses?" And then they're like "You know, I really don't."
Reflecting on Racial Justice Organizing Today
Because of George Floyd, I think a lot of people are willing to be out there which is a good start. But as organizers, we need to be able to maintain those people. There's a difference between an activist and an organizer. Organizers are doing all the work behind the scenes, making sure that the rallies are going to work, they're printing all the flyers, they're bringing water and snacks, they're calling their friends, their members, everybody they know to come out. Activists usually support campaigns/the movement by showing up to events and donating when they can — not just money, but donating food, water, masks, hand sanitizers, etc. definitely helps.
We need people to be lookouts or even put their bodies on the line. Like BLM does when the officers pull up. They have white lives for BLM and those folks are being put into the front line where the police officers are lined up, because they know they're not going to hurt the white people the way they hurt Black and Brown people.
We have to push activists to become organizers. It takes a lot to maintain an organization. How much is it going to take to maintain a movement?
Personal Impacts of Organizing, Envisioning the Future
Organizer isn't even my title, it's my life. It's hard because sometimes I can't switch that off. I can talk to my brothers about housing and then *boom* we're into a whole political conversation and it can lead to arguments because we don't agree on everything. I could talk to anyone about anything, and I always bring it back to something political. So, I would say that becoming an organizer has really changed me.
Sometimes I do hate it, because I can't help myself and set the edge. But I think that's also allowed me to be more comfortable in spaces with other organizers and movement building folks. I'm more willing to set the edge there as well. It's allowed me to be more comfortable taking up space, and giving up space. Organizing has become my life.
I have a lot of experience. Regardless, organizing work is not easy. It definitely takes a toll mentally and emotionally. Fighting for police-free anything is a hard fight. This work is dangerous. I think a few years ago there were even Black Lives Matter organizers who were being found dead. It's dangerous because if you are against the white settler state, you will be seen as a terrorist against the United States.
But it's also important that we do this work, especially for Black and Brown communities who've been hit the hardest with police brutality and the lack of resources. This is something I'm always going to keep doing, and I hope you guys can find a way to do this work wherever you guys go, because we need a whole new system that isn't focused on policing Black and Brown people and locking them up. I definitely hope our stories have encouraged you to get involved in some way.
***
Two years ago I took a gap year from college, because I felt like I wasn't in a good position to be in school. I didn't feel motivated, I was facing depression. That's when I decided to work full time with the Strategy Center. I learned a lot here, like Eric says — the Center is also like its own school. There's a lot of reading I need to do, a lot of writing as well.
I am planning on going back to school this fall. I already applied, I'm going to Santa Monica College. I'm basically trying to move from being a full-time organizer to being a part-time organizer and a full-time student. I talked to the principal from my high school last year — she was my teacher previously before she became a principal at Hawkins — she told me that the movement is always going to be here, and that I shouldn't just let my education slip away. I'm thinking of majoring in either Political Science or Communications because that's what I'm doing already.
With this movement and organizing, I feel like I'm going to be involved no matter what. I definitely see this as my life's work, working for the people and with the people. I do feel secure at the Strategy Center because I know that they love working with me and I love working with them. I feel like there's definitely a job here for me for the future.
You don't have to just be an organizer like I am and work with the community. You could be a doctor and still be an organizer, be a lawyer and be an organizer. So, I definitely want to open up those opportunities for me and that starts with going back to school.