< back to The Newest Abolitionists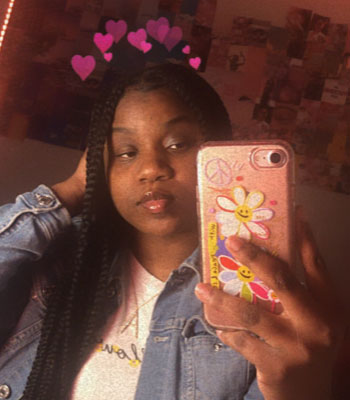 By Amina Mosley
Philadelphia Student Union
With the Assistance of Jordan Weymer
University of Massachusetts Boston
Amina is an energetic, bubbly, powerful youth organizer. She is poised and collected, especially when sharing the story of her interactions with police and security inside and outside of school and her passion for youth organizing. Her pride in being a Black female and all that Black females have done and currently do in her community is awe-inspiring and provides so much hope. So does her quest to end toxicity in our schools. Amina is a powerful example of what students and young adults can do to change our society for the better, not just for their generation but for generations to follow.
The work I do is speeches. I did a speech with schools to talk about police in schools and ICE.
My Identity
I identify as a Black female. Being a Black female in Philadelphia can be hard or rough, but I definitely take pride in it. I'm so happy to be a Black female. Our culture is amazing. And, yeah, it can be hard because Black women get targeted a lot. I think we cure the world a little bit. I think that Black women are most important. Black women are the biggest supporters I know. We support everyone. Every race. Every sexuality. We all support everybody, and it is good energy.
My City
It can be pretty bad in Philly. My school is located in West Philadelphia. It's small, maybe 350 students. The population is mostly Black and Latinx students. It's a public school, but our principal, because he cares about our school community, interviews the freshman and looks at test scores. Our school is fun. I wanted a little school because I'm not really a big, big social person, so going to a small school was good for me.
My School
My school isn't a toxic school, although crime is really high in my neighborhood. I don't live with my mom. I live with my older sister. My mom doesn't live far away. Even though crime is high, there is still a community. People still love each other.
Our school has security. The security guards are part of the school system. There are no police officers in my school, but police are definitely around my school. There are cameras. We go through a metal detector. Security is there when they need it, for a fight or something. I don't really see the police in my school. I do see them in other schools with younger kids. It's like they are trying to shape you from the start. If there is a fight in my school, the principal will call the police.
Police were in my middle school. When I was in middle school, there was one police officer. He was harsh and rough with students. Really rough. He talked to them like adults, not kids. He didn't seem to care. He would cuss at the children. What he was saying was really toxic. One time he got into an altercation with a girl. The girl got in trouble and had to go to a placement, an alternative school for students with a disciplinary violation. I don't think he got into any trouble. So, the girl got in trouble and had to go to a different placement outside of school, but he kept coming to work. That's when I realized that cops were really toxic because he was really rough; he was just never nice.
My Organizing
I didn't know about organizing. I didn't have a lot of organizing resources in middle school, but once I got to high school, I had a really good teacher, and that's where I learned about organizing, and I got to meet an organizer. I really connected with her because she was a Black woman too. She had a daughter. I've always been like an organizing person, but I didn't really know about all of the programs. My teacher introduced me. I realized I liked it, and I stuck with it and started joining other programs.
I became the main student organizer in my school. and other people would ask me to do stuff like speak about an issue, so I would do that. I had the opportunity to testify at a school board meeting. I also got to travel to DC and met people from other places that were also involved in the police-free schools movement. I heard a bunch of students talk about the same things I was going through in my school, so that was really a highlight for me. I met a bunch of cool people from all over, and that's when I realized that this was happening everywhere. It was really powerful for me.
I hope they stop criminalizing students. I just want the criminalization to end, especially because I have a little sister and I have little cousins still in school. When they get to high school, I want the police gone and the cameras gone because I really just want a better environment for schools because students are spending most of their time in schools. I think it's really important for our schools to be peaceful and non-toxic. People come from toxic households that are abusive, and I think the goal can be to make it non-toxic. School should be an outlet, not toxic. Most of the time, students are stressed out about being criminalized; I just wish that we could change the school culture.
The Philadelphia Student Union (PSU) highlighted a lot of the things that were wrong with our schools. One of the actual members was the victim of police brutality. That was the biggest thing so far. In the summer, there were a lot of protests, and PSU was doing a lot. The police were shooting rubber bullets at the protestors.
I feel accomplished every time I do something. There are people that care and are impacted by what I say. People are listening to me. I've done this all four years of high school. My self-confidence has grown. Before PSU, I was quiet. PSU helped me get my voice. I have confidence going into things, and I believe in myself. Before, I was really shy and quiet. I gained my voice; now I'm going to talk about the problems in my class.
The challenge is that we get totally disregarded. The school board can totally disregard what we say or waste our time, I was excited to meet the Superintendent of the School Board. He seemed like a really cool person, but doesn't listen. I know sometimes we went to testify at the school board, and they pushed it back or canceled it. It's also a challenge to keep up with the work. I'm doing a lot back-to-back.
My Future
My reason to be on Earth is to fix injustice in my community. Organizing gave my life a little bit of sunshine. It's my biggest passion. I've gotten knowledge I wouldn't get in school. I'm really big on learning new stuff. I've worked with people from the school board. I've worked with parents. I've worked with people from other cities. I've talked to a lot of great people. I don't want people being slammed or getting beat up by police. I want to start my own organization. I want to be the CEO. And I want to be everywhere, but, of course, it will start small.